780.257.6767
Welcome to Ice Works
Elegant, fun, dramatic, functional…………..
Ice sculptures are without doubt the ultimate statement at a corporate function, wedding, anniversary or any themed event. ICE will attract attention and provide a memorable focal and talking point.
Select from my vast range of previous sculptures. If you have something specific in mind or would like a custom designed sculpture, I would be happy to work with you.
With the experience of thousands of sculptures created, you're guaranteed to be extremely pleased with my quality and professional service.
Thank you for visiting my website, enjoy the "Ice Works".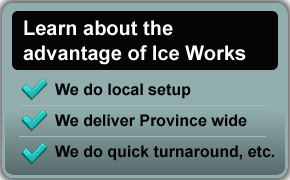 Client Testimonials
"Once again this year, you and your crew did a great job. I really liked the sculpture and it was well received at the president receiption."