780.257.6767
About Us
Ice Works is located in St Albert where we can provide to the Edmonton and surrounding area your ice sculpture and ice block needs.
Every sculpture is hand carved, nothing is created from molds, and we spend considerable time on each individual piece because we believe in the beauty and aesthetics of the piece. Each event whether it be big or small is important to us because it is important to you, our client. Every job we perform is conducted with the utmost professionalism. Customizations and creativity are always welcome; we look forward to hearing from you and making your event a truly memorable one!
Ice Works will provide delivery, tray, light and set up with every ice sculpture delivered within the Edmonton and surrounding areas at no extra cost.
Don't see what you're looking for on our site, please email or call us and we can show you some of our other work, or we are always up to a new challenge.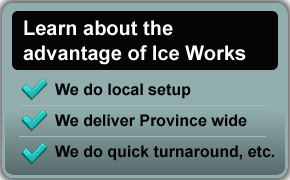 Client Testimonials
"Once again this year, you and your crew did a great job. I really liked the sculpture and it was well received at the president receiption."